These cookie dough balls enrobed in Oreo crunch and stuffed with cocoa nibs are irresistible and addictive! They are totally edible and safe to eat as they are eggless and heat-treated flour is used to make the dough. Enjoy on its own or eat them with ice cream as a decadent dessert!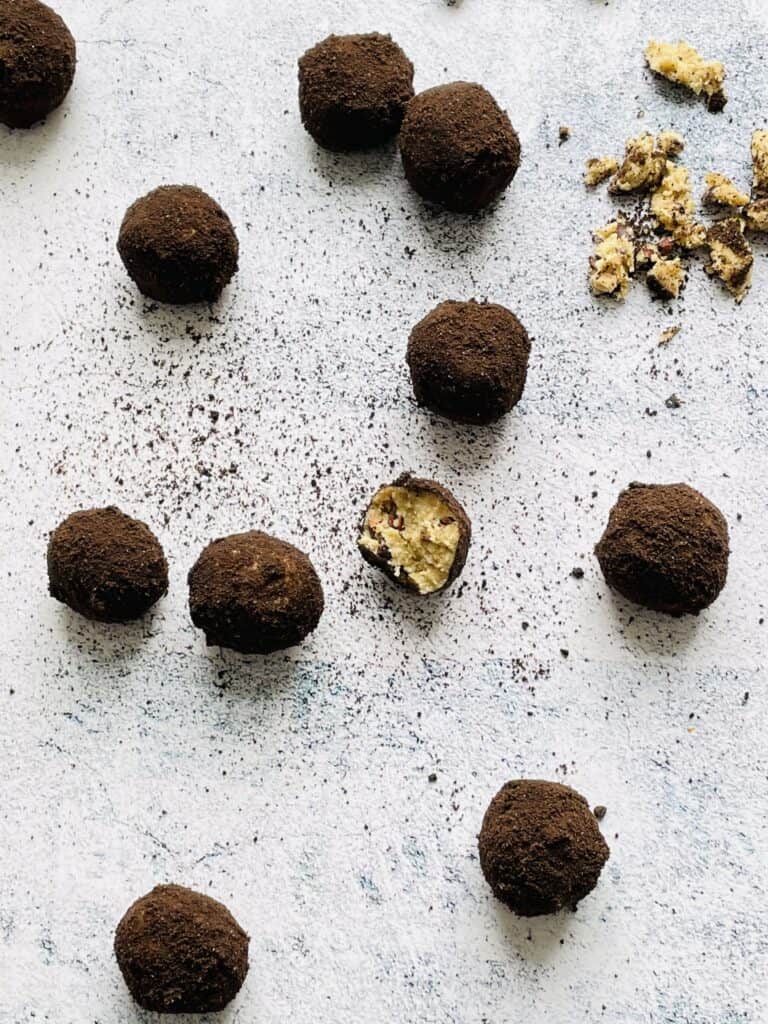 How to make cookie dough safe to eat
Although raw flour and raw eggs are not safe to eat, these are two of the main ingredients that make cookie dough. Raw flour and eggs may contain harmful bacteria that can be dangerous. So we are going to replace eggs with milk to make the dough safer to eat. The flour will be heat-treated in order to kill all the harmful bacteria. There are a few ways to heat-treat flour, however I will use my quick and easy method which is by microwaving it.
How to heat-treat flour
By heat-treating flour, it kills all the harmful bacteria present. There are three ways this can be achieved.
Microwave method: Add the flour in a bowl and heat it in the microwave at 30-second intervals. Mix the flour and insert a candy thermometer in the centre of the bowl to check the temperature. It should be no below 74C to be heat-treated.
Oven method: Preheat the oven to 180C. Spread the flour on a rimmed baking sheet and bake at 5-minute intervals until the flour reaches a temperature of at least 74C. It is now ready to be used.
Pan method: Add the flour to a shallow pan and heat on low to medium heat, stirring continuously. Insert a candy thermometre in the centre to check the temperature. Once it reaches at least 74C it is heat-treated and ready to be used.
What ingredients do you need
Butter: Use softened butter as it helps the sugar to incorporate well in the butter.
Sugar: Soft, brown sugar gives the dough it a caramelised flavour.
Heat-treated flour: It is safe to use, making the dough edible.
Milk: Replaces eggs and adds moisture to the dough.
Oreo biscuits: Use both the cream in the dough and biscuits as coating.
Vanilla: Adds extra flavour to the dough.
Cocoa nibs: Adds a little bit of crunchy texture to the dough.
Step-by step process
How to use cookie dough balls
On its own
Add to ice cream
Sandwich between 2 Oreo biscuits
Add to milkshake
In cupcakes
Oreo Cookie Dough Balls Recipe
These bite-sized oreo cookie dough balls are super delicious, with oreo cream inside, enrobed in oreo crunch. Enjoy on its own or in a bowl of oreo ice cream.
Ingredients
100g butter, softened
100g light brown sugar
150g plain flour
2tbsp milk
1 tsp vanilla extract
100g oreo biscuits (9 oreos)
20g cocoa nibs (or mini chocolate chips)
Instructions
Mix butter and sugar: In a medium-sized bowl mix the butter and sugar until well incorporated. Set aside.
Separate cookie cream: Take out the cream from the oreo biscuits and blend the oreos until fine and crumbly. Set aside for later.
Mix oreo cream: Add the oreo cream to the butter and mix well.
Heat-treat the flour: Heat the flour in the microwave at 30 second intervals until it reaches about 75C throughout. Add it to the mixture and stir until combined.
Add rest of ingredients: Add in the vanilla, cocoa nibs and milk, and mix well.
Form balls: Using a melon baller scoop out some of the dough and shape it into small balls. Coat the dough balls in the orep crumbs and chill for at least 1 hour. You can also freeze the dough balls.
Nutrition Information
Yield

20 servings
Serving Size

3 dough balls
Amount Per Serving
Calories

320