This one pan rougaille which is a tomato-based dish has a rich and flavourful creole sauce infused with fragrant herbs and spices. The fresh prawns bring out the flavours of the sea in this classic and very popular Mauritian prawn rougaille dish. Serve it with a fragrant turmeric steamed rice and a salad on the side.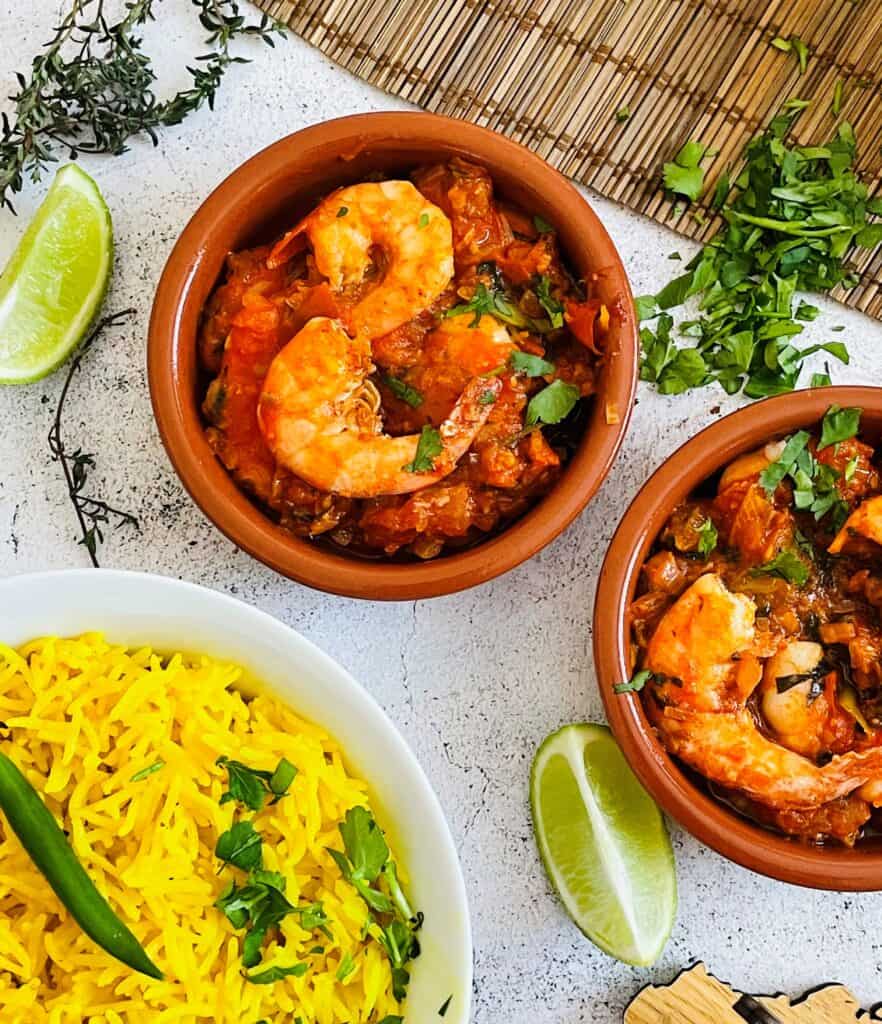 What is a Rougaille
A Rougaille is typically a rich tomato-based dish flavoured with herbs of thyme, parsley and coriander. This classic creole dish has been passed down generations and is one of the most popular dishes in Mauritius. You will find it in every corner of the island; in cafes, restaurants, food markets, and it is a dish that every Mauritian has in their repertoire. A Rougaille can be cooked with meat, fish or vegetables, or even cooked as is with just tomatoes, herbs and spices.
What ingredients make a prawn rougaille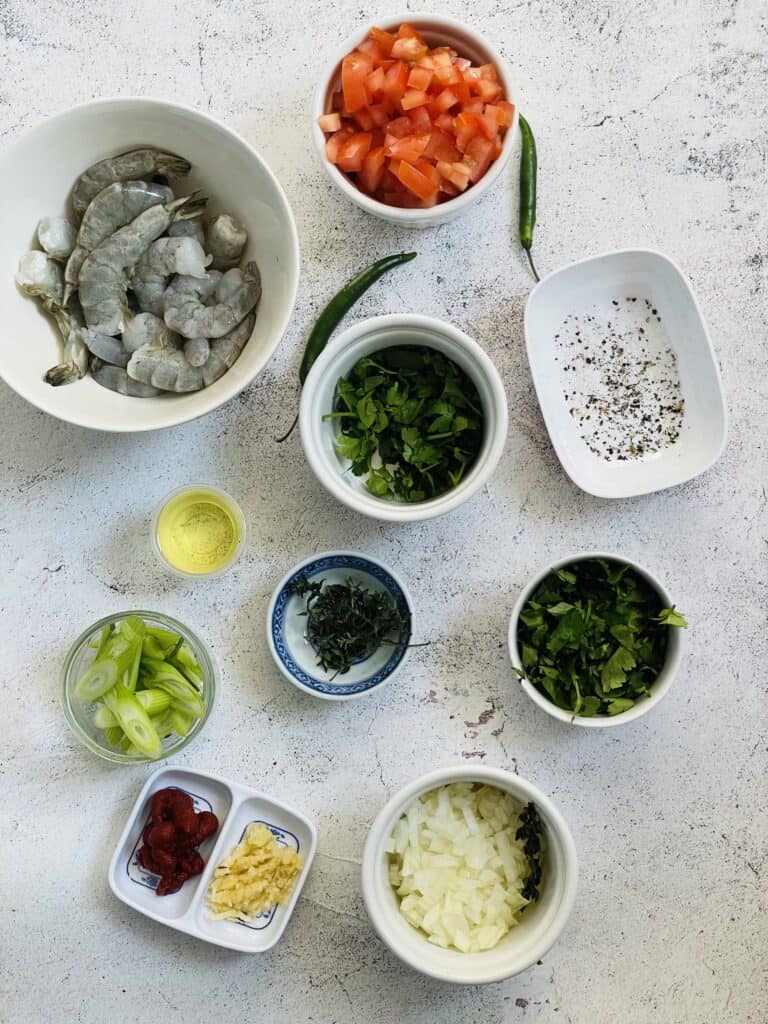 Jumbo king prawns: Fresh jumbo king prawns are the best as they have the fresh taste of the sea, and bring out their vibrant orange colour when cooked. Alternatively use frozen raw king prawns which will give great results.
Tomatoes: Use ripe, red and juicy tomatoes as you want the tomato juices to make the sauce.
Herbs: Herbs are an important addition to this dish. A Mauritian bouquet garni typically consists of thyme, parsley and coriander and they make a great combination of flavours. The addition of spring onions brings out a more pronounced flavour of onions which enhances the aromas of the dish.
Garlic: This is a compulsory ingredient that flavours the prawns and helps lock in all the best flavours when stir-fried.
Chillies: For that extra level of flavour, add some chillies. They work perfectly well with the dish.
Best tips for making the most delicious prawn rougaille
Use fresh ingredients, you can taste the difference in the quality of the rougaille. The prawns are the star of the dish and its terrific flavours need to stand out. Stir-frying the prawns on high heat helps seal all the flavours. Add the cooked prawns to the tomato sauce at the end as this will keep them fresh and perfectly cooked. Adding them any earlier will result in stewed, overcooked and chewy prawns. Add the coriander leaves a few minutes before turning the heat off as it is a delicate herb that releases its aromas when still fresh.
Best way to store a rougaille
A rougaille dish can be stored in the fridge for up to 3 days. It can also be frozen in an airtight container. Use within 3 months of freezing and defrost in the fridge overnight before reheating in the microwave or in a pan. To save time batch cook the rougaille sauce and store as above. Stir-fry meat, fish or vegetables, add in the sauce and leave to simmer for an easy and time-saving meal.
Spicy Mauritian Prawn Rougaille recipe
This is a classic tomato-based Mauritian dish made with prawns cooked in the most delicious tomato sauce infused with herbs. Throw in green chillies for added heat and serve with turmeric steamed rice.
Ingredients
For the rougaille
200

g

Jumbo king prawns

raw

2

cloves

garlic

minced

1

medium

onion

finely chopped

2

fresh

tomatoes

diced

2

tbsp

fresh parsley

chopped

2

tbsp

fresh coriander

chopped

1

tbsp

fresh thyme leaves

2

tbsp

spring onions

sliced

2

green

chillies

sliced lengthways

2

tbsp

vegetable oil

water

sea salt and cracked black pepper to taste
For the turmeric rice
1

cup

basmati rice

2.5

cups

water

1

tsp

turmeric

1/2

onion

chopped

coriander for garnishing

vegetable oil

Drizzle of lime juice

optional
Instructions
Make the prawn rougaille
Stir-fry prawns: In a bowl marinate the prawns with half the garlic, salt and pepper. Heat the oil in a frying pan, making sure it is hot. Add the prawns and stir-fry for 2 minutes. Set the prawns aside.

Make tomato sauce: In the same pan sweat onions for 2 minutes and stir in the garlic for 30 seconds. Add the chillies and tomatoes and cook for 2 minutes until softened. Mix in the thyme, spring onions and parsley. Cover and simmer for 5 minutes. If the sauce is dry add a little water to loosen it.

Add prawns: Add the prawns and coriander, and simmer for another 2 minutes until you get a rich sauce that coats the prawns. Season with salt and pepper.

Serve: Sprinkle a little coriander and spring onions just before serving. Serve with fluffy turmeric rice.
Make the turmeric rice
Add 1 tbsp vegetable oil to a heated pan and sweat the onions for 2 minutes. Stir in the turmeric and cook for 30 seconds to release the aroma. Add the rice and mix well before adding water. Cover and cook on a low heat for 15 minutes or until all the water is evaporated and the rice is cooked and fluffy. Finish with a sprinkle of coriander and a drizzle of lime juice.